Cyber Physical System Lab. merupakan lab riset yang sebelumnya bernama Access Network RG yang memfokuskan risetnya pada bidang Jaringan Seluler, Jaringan Ad-Hoc pada kendaraan (VANET) dan Internet of things. Untuk saat ini, Cyber Physical System Lab. memfokuskan melakukan riset di bidang Internet Of Things For Industry. Lab kami bertempat di ruang O102 gedung Ararkula (Gedung O) Fakultas Teknik Elektro Telkom University.
Struktur Lab dan Program Kerja
Berfokus pada simulasi mengenai mmWave dan Implementasi OpenBTS
Berfokus pada simulasi routing protocolserta pembuatan prototype VANET
Berfokus pada implementasi dan pembuatan prototype product Internet of Things
Research :
Open BTS
Collision Avoidance System Prototype on Smart Car Based on Vehicular Ad-Hoc Network (VANET)
Smart Door System Prototype with Control Based on Radio Frequency Identification (RFID) and Internet of Things (IoT)
Aquaponic Automation Prototype System Based on Internet of Things (IoT)
Trash Monitoring System Prototype Based on Internet of Things (IoT)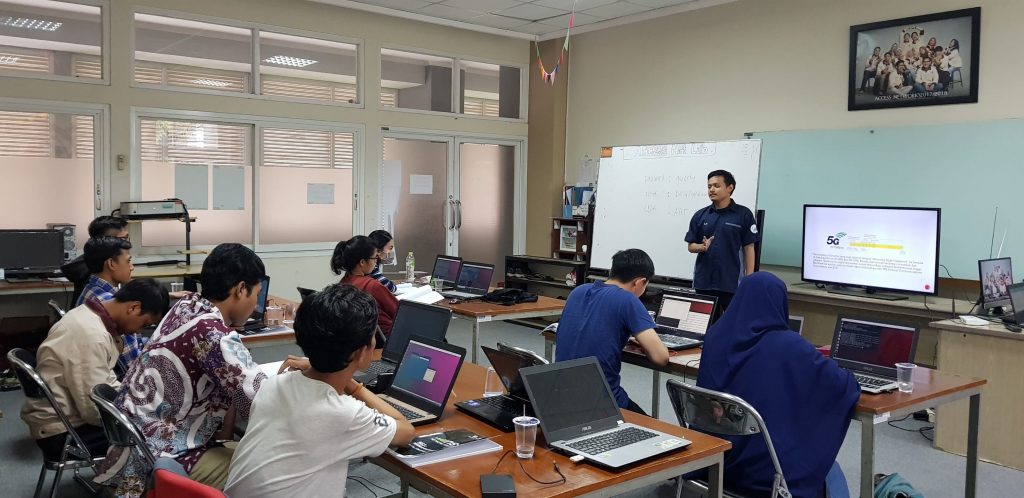 Bandung 25 November dan 2 Desember 2018
Access Network Learning and Training 2018
Pelatihan yang diadakan rutin setiap tahun oleh Access Network Research Group, pada tahun ini (2018) mengambil bahasan tentang Internet of things (25 November 2018) dan Routing pada Vanet (2 Desember 2018).
Sosialisasi Riset KK Jaringan dan Multimedia
Pengabdian Masyarakat di SMK Telkom Jakarta
Seminar Nasional: Maximizing IoT for Smart City

PELATIHAN DAN PEMANFAATAN PLATFORM GOOGLE MEET/ZOOM DAN KAHOOT/QUIZIZZ BAGI GURU MADRASAH BAABUL KHAIRAAT BANDUNGUNTUK MENDUKUNG PEMBELAJARAN DARING
Memang tidak bisa dipungkiri bahwa efek dari pandemi Covid-19 dapat mengganggu maupun menghambat segala bentuk aktivitas normal manusia seperti pada sektor ekonomi, sosial, budaya, dan juga sama halnya pada sektor pendidikan. Pendidikan di Indonesia biasa dilakukan dengan cara menghadiri kelas